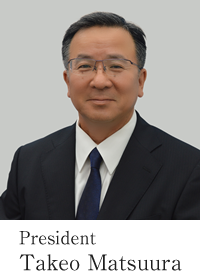 Our company was founded in 1949 as a company that designs, manufactures and installs electric smelting furnaces. After that, we began handling electrical work necessary for installing the electric smelting furnaces, and in the era of Iwaki Cement (now Sumitomo Osaka Cement), we executed an electrical work for construction of cement plant and grew up as an independent electric construction department. (Later, Electrical work for government offices and buildings were added)

Meanwhile, we started to execute maintenance of the electric dust collector, which is an environmental maintenance facility at each factory of SUMITOMO OSAKA CEMENT Co., Ltd., and we newly set up a dust collection equipment division and further executed maintenance of other companies' plants, and have reached the present.
Form now onward, we will aim for a company that meets a wide range of needs of customers from maintenance to new designs and constructions of electric facilities and electric dust collecting facilities at various plants of Sumitomo Osaka Cement Co., Ltd., and electrical facilities of various plants, government offices and buildings etc.
In addition, the industrial machinery department is mainly engaged in design, manufacture and installation of electric smelting furnaces, and also will develop ourselves turning our eyes toward the country as well as overseas as manufacturers of various industrial furnaces,

For an engineering company, human resources are assets.
We will continue to grow as a company that will respond to customers' needs in the future, while we should value human relations.

Thank you for your continued support to CHIYODA ENGINEERING CO., LTD.